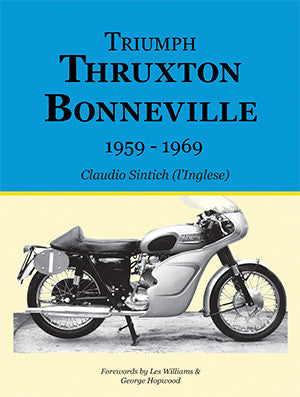 Triumph Thruxton Bonneville 1959 - 1969
Regular price $49.99 Sale

by Claudio Sintich
With Forewords by both: Les Williams  & George Hopwood
Now Out OF Print 
"Triumph Thruxton Bonneville 1959 – 1969 contains everything about those machines, where it all began, the birth of the Bonneville, those special 'works only' parts, the Doug Hele 'effect', and the race seasons where the 'Thruxtons' ruled the roost. I can state without reservation that all Triumph enthusiasts will enjoy this book – especially those who have owned, do own or have raced a Bonneville. Buy a copy!" From Nacelle the magazine of the Triumph Owners Motor Cycle Club
The Thruxton Bonnevilles are a batch of 52 bikes built by Triumph in 1965 to meet new homologation requirements in production racing; only about another one hundred or so were built. Because they were referred to in the build books as made 'to Thruxton specification' these bikes became known as Thruxton Bonnevilles, but not by Meriden. Although built supposedly to the homologation rules of the time, the factory included many parts not generally available to the public - in common with most other manufacturers! They were very successful racing machines capable of sustained high speeds, and with the handling to match.
After Edward's Turner retirement in 1966, his 'no racing' attitude was changed by his successor to the 'Win on Sunday - sell on Monday' approach prevalent in the USA. In 1967, the news of a new class for Production machines in the Diamond Jubillee TT races on the Isle of Man gave new life to the Bonneville. At Meriden a new version was built and John Hartle came in first. More success at the TT followed in 1969 when Malcolm Uphill completed the first 100mph plus lap and averaged 99.99mph in winning the race on a Thruxton!
This book describes how the Bonneville was conceived, the design modifications carried out by the factory, including detail on special 'works only' parts for racing, race preparation, and their immensely successful racing campaigns especially at Thruxton (after which the bike was named), Montjuich Park in Barcelona and the Isle of Man TT Production Races. A book for all Triumph and motorcycle racing enthusiasts and especially those who own or race a Bonneville!
Triumph Thruxton Bonneville 1959 - 1969
256 pages, 196x260mm, over 300 illustrations, colour throughout, soft covers, ISBN 9781909213203,