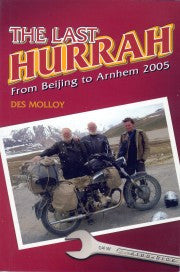 The Last Hurrah - From Beijing to Arnhem 2015
Regular price $59.99 Sale
"If you see one film about biking this Summer, see this 'cos it really is that good!" 100% Biker
"A touching and inspiring story, well worth a watch" Real Classic
"A riveting read" Classic Bike Guide
"Truly enjoyed The Last hurrah, the pure challenge...they really experience the countries travelled through. Great story" Dal Smilie, Chairman, American Motorcyclist Association (AMA)
"Absolutely wonderful!" Peter Williams, Motorcycling Legend, 1970s Norton factory Racer.
"The Long Way Round ...eat yer heart out! If you haven't got it get it now, its brill!" Graham Sherbourne, Chairman, Panther Owners Club
Des Molloy and Dick Huurdeman look like the sort of guys who should be sedately steering a sleigh in a Santa parade, not riding old single-banger British bikes half way across the world through some of the most difficult and remote terrain imaginable. Des's son Steve joined this intrepid pair as cameraman and general factotum for the highs and lows of an incident-packed three-month trek from Beijing to Arnhem on 'Penelope', a 1965 Yorkshire-made 650cc Panther, and 'Dutch Courage', a 1954 Norton 600. The route took them across the Northern-most of the Old Silk Roads over the roof of the world through China, Mongolia, Kazakhstan, Pakistan, the burning deserts in Iran, Turkey, Greece, Italy, Germany and finally to Arnhem in Holland - over 10,000 miles. They did the last 3000 miles in about a week riding up to 12 hours a day! The journey was as traumatic as it was inspiring! Was this idiocy or odyssey?  Decide for yourself as you read Des Molloy's account of their adventures and misadventures. 
Des Molloy lives large in the annals of Panther heroes having taken the same bike the length of South and Central America in the 1970s. A career, wife, several children and numerous bikes later the plan was hatched for one last tilt at the world before it all becomes too accessible.
Contents
1. Gestation
2. Beijing and beyond
3. Across the Gobi
4. Stars in Mother Russia
5. The 'stans'
6. Bummed out in Bishkek, cruelly cured in Kashgar
7. KKH triumph
8. Pakistan and Persian disappointments
9. Racing for home
10. Aftermath
The Last Hurrah! - Des Molloy
July 2006 BOOK NOW OUT OF PRINT 
Softcover, 234 x 156 mm, 224 pages, 70 colour pictures and maps
ISBN 09547912 5 8 
DVD
duration approx 1 hour DVD now Out of Print
ISBN 09547912 7 4