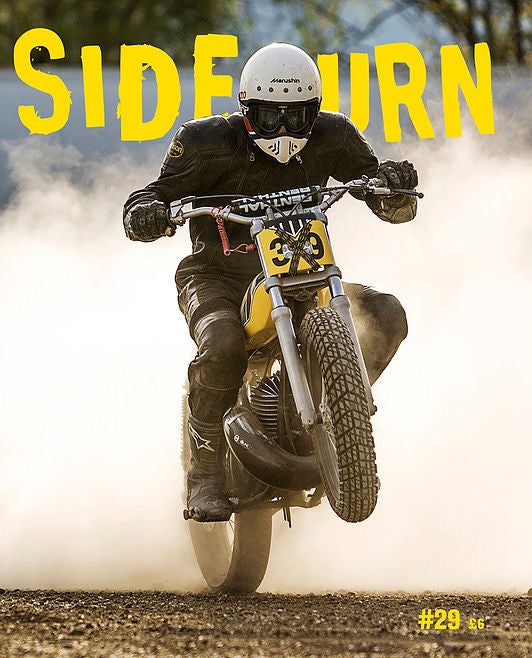 Sideburn #29
Regular price $0.00 $13.00 Sale
A 116-page monster with a solid core of flat track, but much more besides. B-movies, anxiety-inducing adventure (leaving a man to die and eating monkey brains will do that to a traveller); electric race bike tech explained and track tested; Honda's TR1000, a four-cylinder concept bike with more potential for violence than a May Day march in Paris; Odgie, a bike racing philosopher and UK cult hero…
Words? We've got all the best ones. 
This is probably the most densely packed issue with info and opinion on racing, riding, building and enjoying life that we've ever created. If you're looking for regurgitated press releases, wooly second-hand opinions, horseshit meme-style mantras and other similarly worn out, good for nothing tosh, buy someone else's magazine, because you won't find that in Sideburn.
COVER STAR: Roger Goldammer, Yamaha DT400
BIKES: Alta Electric flat tracker race tested; 1975 DT400 short tracker; 1973 Yamaha DT3 short tracker; Champion Suzuki RM250; Noise Cycles H-D XG750 Hooligan; Honda TR1000 concept bike; 1991 Sportster hooligan
EVENTS: American Flat Track Twins at Daytona TT
HOW TO: Promote You Own Flat Track Race by Randy Kremlacek
PEOPLE: Jake Johnson; Odgie; Roger Goldammer; Guy Martin; Ricky Graham  ** we have Odgie's excellent autobiography, Crazy Odge - Confessions of an Esoteric Engineer, in stock here **
PORTFOLIO: The Art of Nick Simich and FartCo
MOVIE: CC & Company
ADVENTURE: UK to Cape Town on a Royal Enfield 500 
PAGES: 116
Looking for other Sideburns or how to subscribe? Click here for the full selection!