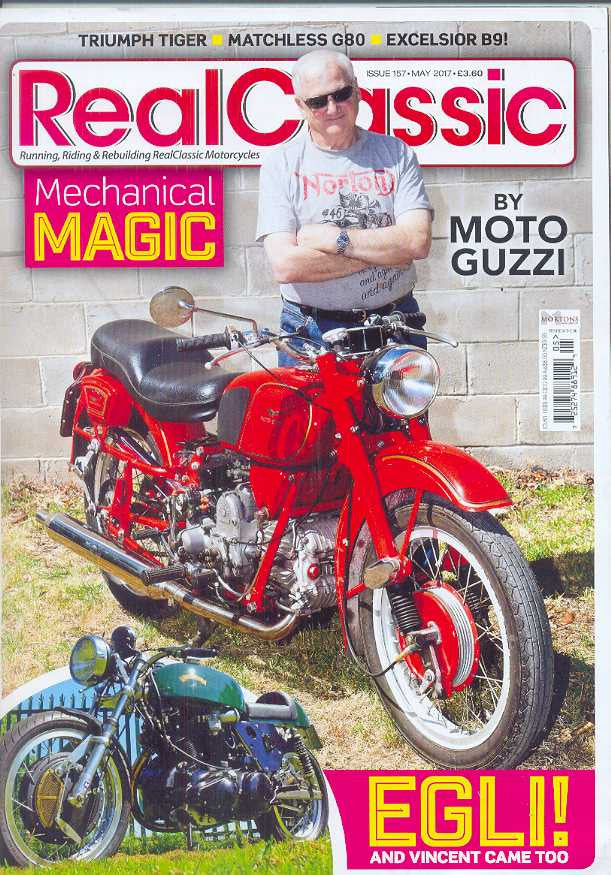 RC201705 RealClassic May 2017
This eclectic issue of RealClassic features the full range of old bikes, from pioneers through veterans to vintage and classic and even the last gasp of the old British industry built in the late 1980s. Two projects reach completion and we attempt to untangle the intricacies of Moto Guzzi's post-war 500s singles…
Here's the full list of bikes featured in RC157, the May 2017 magazine:
BSA B21 BUILD, Part The Last
At last! This two-year project to turn a pile of disparate bits into a 1938 250 single-cylinder motorcycle is finished. Official. Well, mostly. Apart from one or two last little things which need a tiny bit of attention…
EGLI VINCENT
Only merchant bankers and millionaires could afford to own an Egli Vin, right? Wrong. Odgie meets the man in the street, someone who knew exactly what he wanted and then worked hard to get it
EXCELSIOR 350
Built in Britain, bought in Belgium, revitalised in Luxembourg. How an 85 year old, JAP-engined, rigid/girder single found a new home
MATCHLESS G80
These days it's normal for British-built bikes to incorporate international components. In 1987, Les Harris started the trend with a 500 single that came equipped with all kinds of Continental kit… including an Austrian engine
MOTO GUZZI FALCONE
Eye-catching and charismatic, Moto Guzzi's big singles have a way of endearing themselves to classic riders. Rowena Hoseason gets to grips with several generations of the fabulous Falcone
RICKMAN MÉTISSE, Part The Last
The concluding part of the rebuild, which is when the really interesting challenges arise. Will all the important components fit together? Will it start? If it does, will its owner actually like riding it?
TIGER RIDE
Did you go for a club run on Easter weekend this year? 50 years ago, young men rode 700 miles in three days, just for fun… on Triumph Tiger Cubs. Wow
TRIUMPH TIGER
A tale of two second chances: an RC regular returns to Triumph twins after suffering seller's regret, and a roadworn warrior is brought back to life…
TRIUMPH TRIDENT
Buying a British bike? You might find better examples at lower prices overseas. This T150V was discovered in Chicago and repatriated back to Blighty
WHIRLWIND VETERAN
After exploring the various marques manufactured in Northampton, our series concludes with one of the most mysterious and oldest endeavours. The Whirlwind story starts all the way back in 1886…
Plus! Classic bike electrics: when the sparks stopped flying, it became obvious that an obsolete alternator was in need of attention. The easy solution would be to buy a new one – but when have RealClassic regulars ever taken the easy way out? Also, suggestions on how to seal T140 pushrod tubes; Norton news, headlamp bulbs and interesting exhausts; PUB goes to the Pioneer Run and Frank Westworth celebrates getting the BSA B25SS to start and stop successfully. Or, indeed, not…