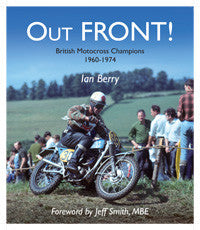 Out FRONT! British Motocross Champions 1960-1974 by Ian Berry
Regular price $36.99 $18.00 Sale
Foreword by Jeff Smith, Twice World Motocross Champion, and 9 times British Motocross Champion.
"Out Front is an essential purchase for any fan of off-road racing" Dirt Bike Rider


"What makes champions tick? How did they get where they are? What are their motivations, disappointments, joys? all these questions and more are answered in Out FRONT!...certainly one for the off-roader..." Classic Dirt Bike and OBM
"Just when you think a subject has been well covered and documented, a new book comes out that is totally different and takes a new angle and has you reading from cover to cover as quick as you can, because it quickly becomes addictive. Out FRONT from Panther Publishing is one such book...A truly stunning work and well worth the £22.95 asking price"
  Inter-Bike
A wonderful celebration of some of the best off-road racers there have ever been. The photos alone make Out FRONT! a must have and include many which have never before been published: all are simply stunning.
From Dave Bickers, Jeff Smith and Arthur Lampkin to John Banks, Bryan Wade and Vic Allan – all eleven British champions from 1960 to 1974 are here with full profiles of the men and their championship careers, complete with fantastic action photos! Out FRONT! is both a joy to read and a much needed work which really brings to life the history of scrambles and motocross in the UK through the careers of the men who became the champions.
Out FRONT! tells the full story of each of the British Champions. It is emphatically not a book full of statistics but aims to get beneath the surface of simple placings to examine the reasons behind the riders successes, the racing politics and manufacturer rivalries of the time. Needless to say the key races in their careers are described in detail as well as how they became involved in 'scrambling' and their careers outside motocross.Out FRONT! British Motocross Champions 1960-1974
272 pages,  245 x 210mm, Paperback, ISBN 978-0-9564975-3-6 and includes a stunning 200 period photos
---
IF you are ordering from the UK or Europe, please use the link below to order your book.   This will redirect you our UK-based store.  We have the book stocked in North Yorkshire, and we are using DPD to ship.