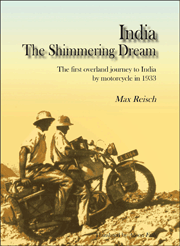 India: The Shimmering Dream
Regular price $39.95 Sale
Now Out of Print
India: The Shimmering Dream
The first overland journey to India by motorcycle in 1933
"A pacy read...entertaining reading" The Sunday Telegraph review 
A truly great travel adventure through Iraq, Iran and Baluchistan to India in 1933. But what really sets this book apart are the wonderful descriptions of the people and cultures, now nearly forgotten, but still hugely relevant in today's age: all brought evocatively to life by the wonderful photos from 1933. At that time, the idea of traveling to India on a motorbike through the deserts was considered impossible; there were no roads and they were attempting to cross the burning deserts in the middle of August, on a tiny two-stroke motorcycle with barely enough power for the bike and rider, let alone a pillion passenger! Gripping stuff, yet perceptive and full of drama – definitely a must for all travel and motorcycle enthusiasts. Adventure riding at its best and one of the greatest ever motorcycle adventure books.
Max Reisch was a 20 year old student at Vienna when he set out on this epic journey to India together with Herbert Tichy. After Graduating he became a hugely successful explorer and travel writer, but this book about his motorcycle expedition to Asia is arguably his best. First published in German in the late 1940s, and now translated by Alison Falls, herself no stranger to motorcycles, it has been brought to life in the English language for an international audience.
Contents
Youthful Optimism
Where does Asia begin? 
Annoyances in Anatolia 
Joy and Woe in Paradise
Baghdad - In the Footsteps of Haroun al Rashid
Caution in Karbala
The First Great Crisis
The Paris of the East
Desert Fever and a Missionary
Our Life in the Desert
Letters from Home
The Salt desert of Dasht-E-Lut
The Oasis of Water Thieves
The Second Great Crisis
Latif Hamid and the Dynamo
The Map of India
How We Lost Face in the Golden Temple
Grass Fires and a Guilty Conscience
Vaikunth - Heaven on Earth
Crossing India; the Wish List
What Happened Next
Postscript. 
India The Shimmering Dream by Max Reisch. 216 pages, 90 period photos and maps. Softback, ISBN 978-0-9556595-9-1