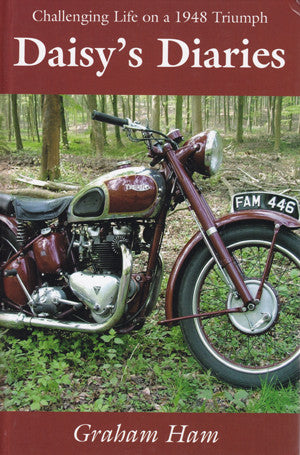 Challenging Life on a 1948 Triumph: Daisy's Diaries
Regular price $54.99 Sale
Now Out of Print
"Strangely addictive...a must-have for any classic bike enthusiasts" Daily Express
"Jam packed full of adventure!" Classic Bike Guide
"Highly readable" Nacelle (Triumph Owners Motorcycle Club magazine)
Give up the day job, buy an old bike and ride off into the sunset – a dream for most but reality for the author as he takes on the Landmark Challenge set by the Triumph Owners Club. But first build the bike, make peace with the family, then just go - meeting life head on. Often hilarious, always interesting this is a book which brings home the joys of classic motorcycling as Daisy, a 1948 Triumph Speed Twin puts in some 5,000 miles to win the Challenge – in spite of mechanical mayhem, fire, and just about everything else that can go wrong with an old bike. The author, armed with little more than a compass from a Christmas cracker, a dysfunctional map and a random selection of the wrong tools sets out to challenge life together with his young family. Great fun, just what classic motorcycling is all about and makes you itch to join him on the road!
Graham Ham is a journalist with a regular column, Daisy's Diary, in RealClassic and which forms the basis of this book. Graham is a well-known face to many classic motorcycle enthusiasts and rallyists, many of whom have been eagerly awaiting the publication of this book.
Contents
Prologue
The start of an obsession
The Landmark Challenge and into the fens
Back to the drawing board
Diversion to Le Mans
Practising on rabbits
Heading west
Fire in the shires
Northern Landmarks and punctured in Durham
Mountains, rain and perilous descents
The world strikes back
Wales, sheep and more trouble with Landmarks
The final frontier
Epilogue.
Daisy's Diaries:Challenging Life on a 1948 Triumph - Graham Ham
2005. Reprinted 2014
Hardcover, 240 x 162 mm, 186 pages, 16 colour illustrations
ISBN 0954791231