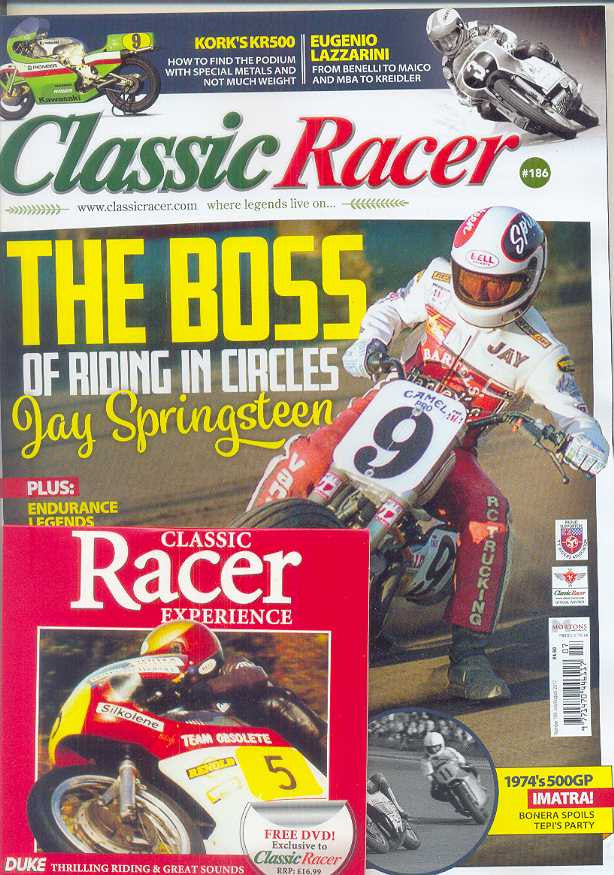 CR201708 Classic Racer July/August 2017
Jay Springsteen Feature!
Archive opener
One from our archive which not only shows a great rider doing what made them great but also the folly of a watching crowd who choose the wrong direction in which to spectate.
Paddock Gossip
Malcolm's been out and about in various corners of various paddocks gathering the where, the what and the why over the past few weeks.
Readers' Write
Or, more accurately, your thoughts and missives on the biggest topics of the past month in the classic racing world.
Line Art
The first in an extensive series of line drawings featuring the most iconic racing motorcycles ever made. And to kick things off, we have a specific Honda that was once sat under Freddie Spencer.
Legend: Jay Springsteen
The story of a man who defined a generation and took what he had on hard-pack dirt and managed to find form on Tarmac, too. For a career that spans four decades, it's quite a tale to tell. Told here.
Technical: Kork's KR500
How exotic materials and sheer bloody-mindedness took a bike and turned it into something (comparatively) unique.
Eugenio Lazzarini
How a small Italian man made his way in the crazy and competitive world of small capacity Grand Prix racing. Tough as a boiled boot, these lads.
Potts McIntyre: Part One
Combine Bob Mac with a bespoke, somewhat single-minded plan to make a fast Norton and you've got a brilliant story from a time when the bravest souls made thr biggest gains.
Grand Prix 1974! Imatra
Tepi was on home soil and still in with a shot at the 500cc title. All he had to do was beat Phil Read (and not crash in the 350cc race).
Bob Mac's 100mph lap
Today we do the tonne. It's that moment where the first, some would say most significant, major milestone of the Isle of Man was delivered. From behind a dustbin fairing.
TZ750 flat tracker: Brutal
Going fast, sideways on dirt was long the preserve of the likes of Springsteen and for a while K Roberts esq. Terry Stevenson taks a look at the motorcycles that made men of men.
On Track
Donington played host to the Enduranc Legends, ICGP and Lansdowne races and BHR made its way out twice whilst Mallory and Pembrey saw CRMC action. It's been a very busy few weeks for the racers this racing issue.