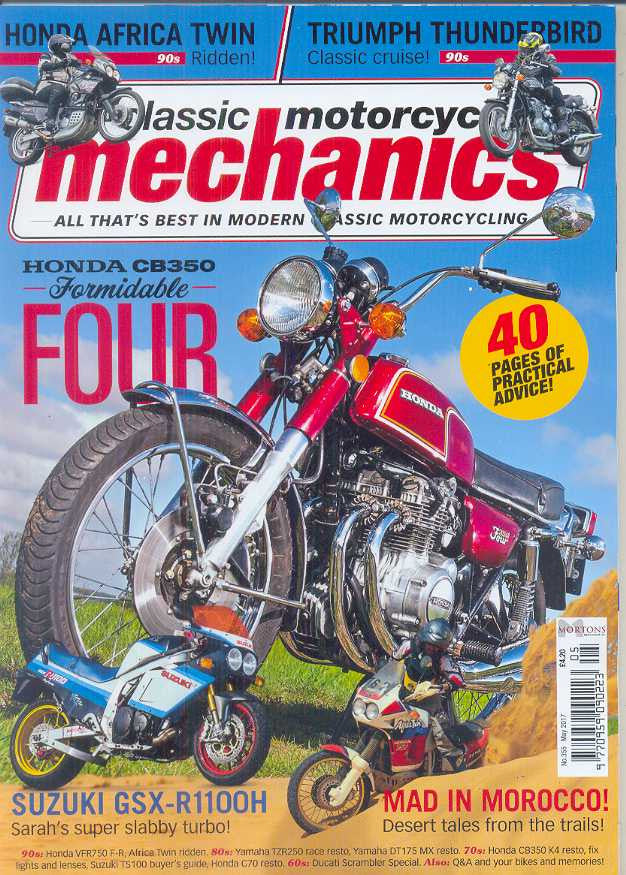 CM201705 Classic Mechanics May 2017
62  WORKSHOP NEWS
New metal bits and old kit tested.

64  Q&A
Mark Haycock, Scoop and you
with tips!

66  HONDA CB350 K4
Kids from a high school
undertake a resto!

73  PROJECT BROOKLANDS
Stan Stephens' bike looks
amazing.

76  LIGHTS AND LENSES
Sorting indicators, headlamps
and the like.

82  YAMAHA TZR250
Charlie Oakman on his
resto-racer rebuild.

86  DUCATI SCRAMBLER?
Or is it? Find out more in
a one-off Pip Higham build.

92  YAMAHA DT175 MX
Ralph Ferrand is on with part
eight: the top-end.

98  HONDA C70 CUB
Niall Mackenzie is almost on
the final furlong with this.

110  SUZUKI TS100L
Steve Cooper's buyer's guide
on the tiddler trailie.

114  HONDA CB400 FOUR
Ralph Ferrand on part one of
sorting a super Four.

127  MAKE OR BREAK REVISITED!
Scott Redmond on how prices have
changed over the last five years.

06 ARCHIVE
Sons of the Desert:
Peterhansel and XTZ
08 1995 TRIUMPH THUNDERBIRD
Chris Moss returns with a
classic cruiser Quick Spin.

12 NEWS
New CRK Triumph kit and charity
 events galore!
18 CALENDAR
Where to go in May: let's rock! (And ride!)
20 FEEDBACK
Keep them coming to keep us honest.

22 SHOW US YOURS
Now with added nostalgia!
Check out 'The Way We Were!'
 26 ENDURANCE LEGENDS
Freddie Spencer to attend the 4-Hour!
30 1973 HONDA CB350 FOUR
Steve Cooper reckons it's a mini - marvel!

36 SUBSCRIBE!
Subscribe and save cash!

38 1998 HONDA XRV750 AFRICA TWIN
Bertie Simmonds on the coolest of big trailies.

46 READERS' RIDES
Three barking Spaniards on old Africa Twins: fun!

52 READER'S SPECIAL
Sarah Chapman's cool GSX-R1100H Turbo.

58 RETRO REBOOT
Special! What should our £100 Hound look like?