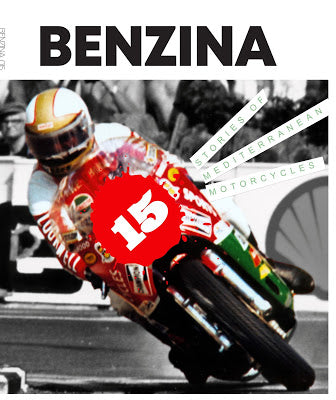 Benzina Magazine #15
Regular price $18.50 Sale
June 1, 2019 - Benzina is back! It's been almost two years since Benzina 14 went to the printers and, to be honest, that's a good thing. It's allowed a regrouping and a confidence that another three issues could be produced over the coming 12 months.

In this issue there are two big 2018 anniversaries to be celebrated. It's 40 years since Mike Hailwood's Formula 1 win that saved Ducati. And 25 years since the first Monster, the motorcycle that saved Ducati. Again. The Italians do like a bit of drama.
Price includes shipping within the USA via First Class mail.

Here's what's in the 240mm x 210mm 100 page paperback book:
40 YEARS
Celebrating Mike Hailwood's 1978 Formula 1 TT win
THE TRUTH
How Sports Motorcycles took Mike to victory
PATON
Little known marque that can rule the Isle of Man
MV Agusta R19
Teasing us with the promise of a 500 four roadster in 1950
TARGET ACQUIRED
The MV 750 separated at birth from the Suzuki Katana
I BOUGHT A HAUNTED MOTORBIKE
Nightmares with a Laverda Formula Mirage
A FITTING MOTORCYCLE
Melissa Holbrook Pierson on Moto Guzzi's Lario and V7II
BEDFORD KZ
Parilla and Bultaco join the Continental Circus
RICHARD MORELY
Gearbox maestro, Parilla works racer
AN ITALIAN WALKS INTO A BAR
Building winning Ducati flat trackers
AN AUSTRALIAN & AN AMERICAN WALK INTO A BAR
Troy Bayliss goes flat tracking in the USA with Ducati
THE BEST BIMOTA TESI
Probably not the hub centre steered beauty you're expecting
FLATWHITE v DOUBLE ESPRESSO
350 Morini ,125 MV Agusta and Motobi reviewed
MONSTER MUNCH
25 years on the story of the original M900 at its best
MONZA
Images of the very first motorcycle race at the circuit from 1922 IN THE END
you can't control events - so enjoy the ride