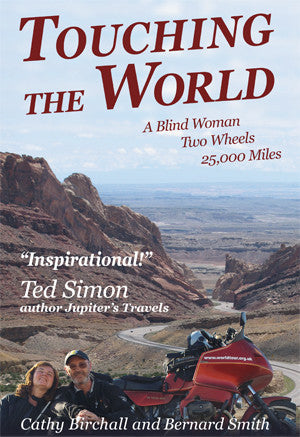 Touching The World: A Blind Woman, Two Wheels, 25,000 Miles
Regular price $39.99 Sale
Now Out of Print
REVIEWS of Touching The World
by Cathy Birchall and Bernard Smith
"An incredible undertaking, narrated with fantastic honesty, illustrating the emotional heights and depths overlanding can occasion. 'Touching the World' ticks all the boxes for those who dream of overland travel and still inspires those who have themselves previously embarked on a challenging trip. If you've read many overland books or none, you'll be hooked by this one from the start." Jenny Cook, Overland
"None can equal this latest work from Panther Publishing, because not only is it well written, it is totally unique and the tale is unlikely ever to be reprised....read this book or you will have sadly missed out on not only 344 pages of inspiration, as well as a rattling good read and be poorer for your loss!'"
Ian Kerr, Inter-bike
"Cathy's vivid descriptions of her experiences interspersed with Bernard's observations make this book an inspirational, entertaining and pleasurable read....one of those rare publications where you are drawn into their private world and are taken along with them in their adventure. I don't think a paragraph was read where I did not both laugh and cry ... Thank you Cathy and Bernard for writing this book."  Lolo Roberts, BM Rider
"One Dream, an old bike and a big adventure..." Flic Everet, Daily Express
"Much more than a simple tale of motorcycle adventuring, Touching the World is a personal exploration of what can be versus what is...Birchall and Smith's journey is remarkable, their shared experiences told with humility and compassion...Emotionally tender, humorous, sometimes depressing and always insightful, Touching the World proves that life is, indeed, what you make of it." Motorcycle Classics
"Touching the World is very well written. By the end of the first couple of chapters I felt as if I knew Cathy and Bernard. By the end of the book I liked and admired two people I've never met.... If you enjoy Ted Simon's books then you'll love it. It's insightful, informative, entertaining and in places very moving; funny and sometimes a combination of both. It deserves a wider audience than it will probably get as a bike travel book." Dave Blendell, Real Classic
"Cathy's courage has been truly inspirational for many blind and partially sighted people across the world."  Stephen Remington, CEO, Action for Blind People.
 
"....an incredible and inspirational story. Ride, Cathy, Ride!" Ted Simon, author of Jupiter's Travels
Cathy Birchall is the first blind person ever to circumnavigate the globe on a motorcycle, covering 26,385 miles, 31 countries and 5 continents with her companion Bernard on an 18 year old motorcycle.

Motorcycle Adventure and courage all the way…
From feeling the traffic passing so close it touches you as you ride through Indian cities, to mounting an elephant from the front (yes, really!) in Nepal and climbing the mountain at Macchu Picchu in Peru with its innumerable steps and vertiginous drops, Touching the World takes you on a journey of extraordinary beauty and interest, full of surprises. It is unique in the perspective it takes, because Touching the World is written from Cathy's point of view, that of a blind woman.  
"Men do not want you if you are blind, why would you want to be with a blind woman?" asks Neena at the Centre for Blind Women in Delhi as Cathy and Bernard experience some heart wrenching cultural differences where a blind woman was considered doubly afflicted and worthless.
Their old BMW motorcycle keeps breaking down and you feel for Bernard as the lights dim in Malaysia and the bike grinds to a halt with a dead battery! But somehow they keep the bike going and in this they were often helped by the unwavering kindness of strangers. From border guards guiding Cathy's hand to the bike to anchor her in a strange place, to Glen helping perform open heart surgery on the bike in the Nullarbor desert, the natural generosity of people is vividly portrayed.
What is it like to be blind?
Touching The World challenges our perceptions of our own boundaries as well as those of others and portrays vividly just what it means to be blind in a way that has never before been attempted. It gives you a real insight into the nature of blindness and the ability of the human spirit to transcend almost any difficulty. If this question can be answered then Cathy Birchall's story comes as close as is possible!
The Route 
Ireland, France, Switzerland, Italy, Croatia, Bosnia, Serbia, Montenegro, Macedonia, Greece
Turkey, flight across Iran to Pakistan, India, Nepal, flight to Thailand, Malaysia flight to Australia, flight to Chile, Peru, Ecuador, Colombia, flight to Panama, Costa Rica, Nicaragua, Honduras, El Salvador, Guatemala, Mexico, USA, Canada flight to UK
Try before you buy!  there is a free sample chapter from Touching the World availabel as an ebook through most ebook sellers including Amazon. You dont need any special equipment - free reading software for Amazon and most other formats is readily available. 
"Your story is terrific, inherently interesting." Dan
Walsh, author of Endless Horizon
"An incredible undertaking, narrated with fantastic honesty, illustrating the emotional heights and depths overlanding can occasion' Overland Magazine
Published August 2012 Softback(156 x 234mm or 6 x 9in approx). Recommended Retail Price, printed copy £12.99, 344 pages plus prelims, 29 colour photos and 8 maps, ISBN 978-0-9564975-8-1.