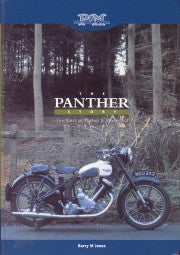 The Panther Story by Barry Jones
Regular price $35.00 Sale
The Panther Story by Barry Jones
revised, paperback edition. Includes improved illustrations, some revisons and a few corrections to the text, and additional material mainly concerned with recollections of people formerly connected with P&M.
Reviews of the earlier edition
"If you buy only one motorcycling book this year then buy this one. You will not regret it." Classic Bike Guide
"This is one of the best histories I've ever seen." Old Bike Mart
"...the most comprehensive record yet compiled on this famous marque. Reading it brought back many happy memories to me, travelling as a child in a sidecar pulled by my father's big black Panther." Norma: Friends of the National Motor Museum Trust Newsletter
The complete history of Panther motorcycles, their manufacture, exploits, and achievements.
Written by Barry Jones, the authority on the history of Panther motorcycles, this book is full of new information, photos and illustrations.
The authoritative history of the marque.
Contents
Introduction to the Revised Edition
Introduction to the First Edition
The dawn of motorcycling
Phelon & Rayner - the early years
The Humber 1901-1907
The Phelon and Moore partnership
Under new management - Phelon & Moore Ltd 
The 'Perfected Motorcycle' P&M 1908-1914
The V-twin
On Her Majesty's Service
Peace - and the four-speed P&Ms
A Panther is born
OHV Panthers 1924-1928
Redwing Panthers 1929-1932
Racing Panthers
Panther heavyweights 1933-1937
The Venture
The Guymar
Heavyweight developments 1938-1940
The Panthette V-twin and the Panther-Villiers
Red Panthers and Strouds 1932-1940
Sidecars and caravans
War and Peace
Post-war proposals
Post-war Middleweights
Swedish mysteries, films and exports
Return of the Panther-Villiers
Cleckheaton's Princess
The biggest aspidistra in the world
The flight of the Phoenix
A tour of the works
Administration
Biographies
Patents
Specifications
Index
The Panther Story: the Story of Phelon & Moore Ltd - Barry M Jones
New revised paperback edition
Softcover, 280 x 210 mm, 331 pages, Over 300 illustrations
ISBN 978 0955659560.