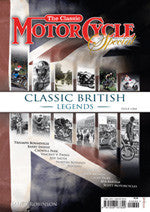 Classic British Legends
Regular price $13.50 Sale
The British motorcycling heroes of yesteryear and the powerful machines they rode to victory time and again are celebrated here.

This eclectic collection, compiled by The Classic MotorCycle editor James Robinson, provides full and frank biographies of champions such as Barry Sheene, Jeff Smith and Geoff Duke.

Lavishly illustrated with period photos and the histories of legendary motorcycles including the Triumph Bonneville, Vincent V-twins and Norton Rotaries are presented in exhaustive detail.

This hefty volume, the first in a series of three, also looks at the race circuits where the world's greatest riders battled it out and puts the influence of the motorcycle on British culture under the microscope.
---
Classic British Motorcycle Legends
By James Robinson
978-1906167899